John is buzzing to learn some new skills!
John Thomas never thought he'd be learning about bees, but that's exactly what he's been doing recently, thanks to an introduction from our BUS (Building Up Stronger) service.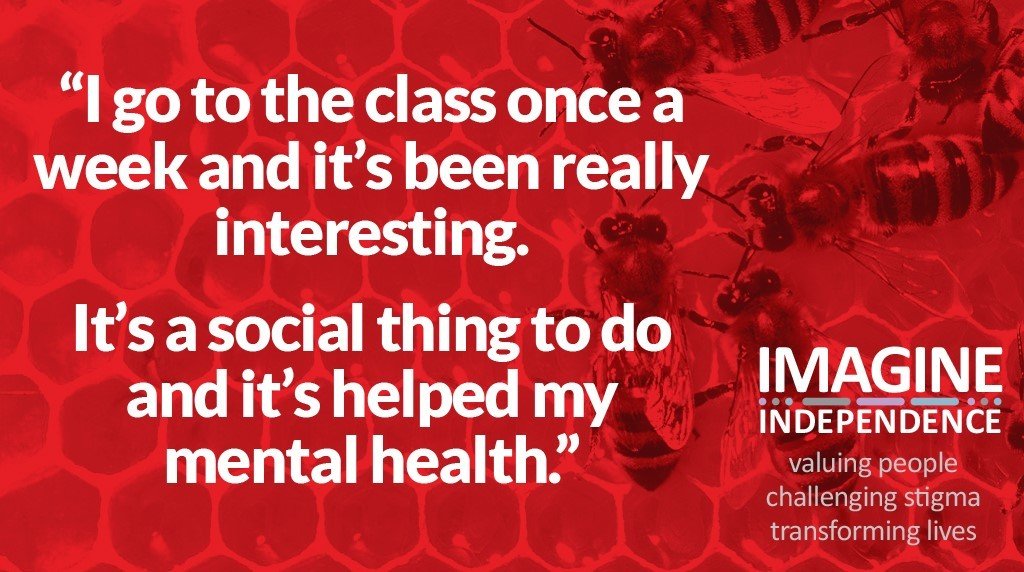 John, who is 62 and from Woolton, was referred through his psychologist. He's been having Cognitive Behavioural Therapy (CBT) for a while to help him overcome some mental health challenges.
John said: "I thought it would be a different route to getting some support and learning new things. Tony from Imagine rang me and we had a chat so he could find out what I'm interested in.
"I did a computer course which taught me some new skills, like using Zoom. After that I wanted to do something with a bit more interaction and to meet people to talk to."
John has a background as a landscape gardener and has done some voluntary gardening work too, so Tony thought he might be interested in doing a course in bee-keeping.
John said: "He phoned me and told me about his idea - I thought why not?
"I go to the class once a week and it's been really interesting. We've been starting to build hives and learning about how to keep the bees healthy.
"I've met some new people who I get on with. I'm an inquisitive person and I love talking to people and finding out about them. I love football and cycling and there are a few people with similar interests. It's a social thing to do and it's helped my mental health."
John has a weekly call with Tony for general support. He added: "It's a friendly voice and he's easy to talk to. We've been looking at other courses I might be able to start, like resilience.
"Imagine are very relaxed and easy going, and they're there to help and support people. I've not worked for eight years but I feel I have a lot to offer and it's my goal to become employed again. Imagine are helping me on my way with that."
Tony Fiori, Imagine Project Facilitator, added: "I have been working with John on improving his digital skills and through our discussions, John told me that he has volunteered with a gardening group and is interested in outdoor activities.
"When I saw the opportunity arise for a bee-keeping course, I immediately thought of John. The course is hands-on and interactive, and for men aged 50+ with who have experienced recent mental health difficulties. John has told me that it is very enjoyable and he has learnt a lot on a subject he did not know he was interested in.
"Older men in particular can sometimes find it difficult to talk about mental health and courses like this one give men a chance to discuss their feelings and learn a new activity at the same time."