Super sleuths needed to help fund vital new service in the heart of Liverpool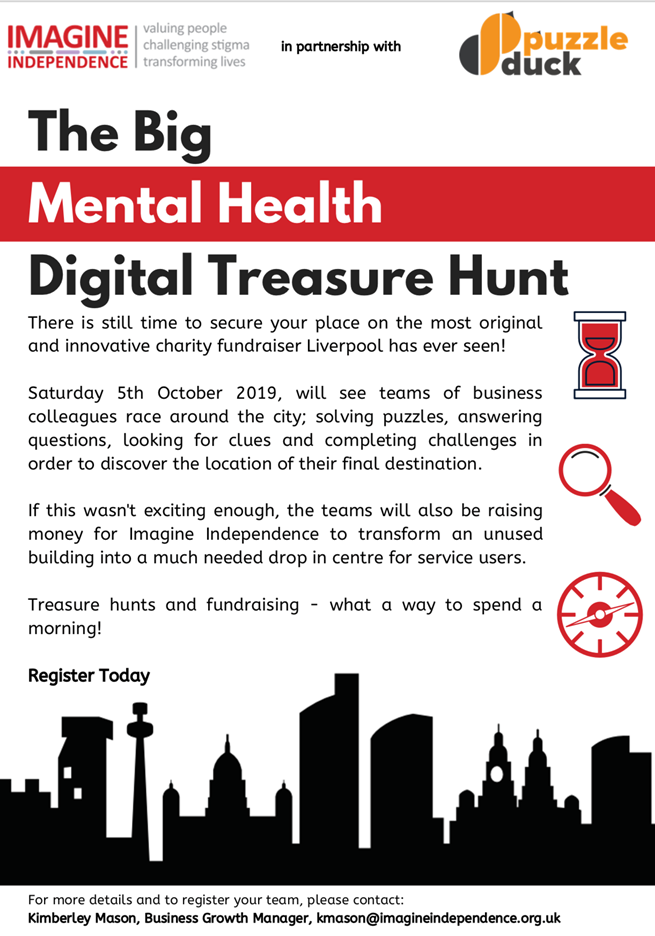 A mental health and wellbeing charity is calling on all local super sleuths to help raise money to create a new community social space based in the heart of the most deprived areas of Liverpool.
Imagine Independence, which has been based in the city since 1975, is aiming to convert its former training room in the city centre to provide a space where it can deliver a range of new services for some of the city's most vulnerable citizens.
The Liverpool-based national charity, which supports people living with a range of health and wellbeing issues to lead full and independent lives, is staging several events to raise the £100,000 needed to repurpose the space. It will then be able to open up the room to the community for information and advice sessions, lunch clubs, health promotion activities and arts and craft groups, amongst other things. A revamped kitchen will also be included in the scheme, so that food and drink is available for people attending the sessions.
Imagine has already raised £17,000 through activities including an abseil down Liverpool Anglican Cathedral, and sponsorship from Liverpool based printing company CDP. It is now staging the Big Mental Health Day Digital Treasure Hunt - hosted by Wirral based PuzzleDuck - as its latest event. This starts Imagine Independence's week of activities marking 'World Mental Health Day' on the 10th of October. The Digital Treasure Hunt is open to the public, starting in the city centre at 10am on Saturday, October 5. All you need to take part is a pair of trainers and a smartphone on which to download the app on which all the clues will appear.
The charity is calling on the public in Liverpool to help bring this new city centre resource to life.
Imagine Independence chief executive Margaret Hanson said: "While Liverpool's brilliant regeneration is boosting the economy and environment in the city centre, a huge amount of poverty still exists in the communities surrounding Imagine's base on Hope Street."
"Many six inner city wards in Liverpool are in the UK's most deprived. Imagine is committed to do its bit to help the individuals and families in the community which has been our organisation's home since 1975. Imagine was created to help people experiencing mental illness and distress and it is clearly evidenced that one of the biggest factors in creating mental ill-health is poverty. After 10 years of austerity, many people in our area are really struggling with their mental and physical health and Imagine wants to step up to do more to support them.
"We have been raising money over the past few months to get our project underway, but we need the business community and the public in the area to get behind us to bring this absolutely vital resource into being. We want to create a safe and welcoming place, where people can access services to help them to take control over their own lives, have something to look forward to, and meet others who have had the same challenges, but overcome them."
According to the latest government figures, both Knowsley (second) and Liverpool (fourth) are among the UK's most deprived local authorities. In Liverpool alone, in some inner-city wards, 42% per cent of children live in poverty compared to a third nationally.
Princes Park ward (47%) is the hardest hit, with Picton, Everton, Kensington, Fairfield and Kirkdale each having 39% of youngsters living below the breadline.
Meanwhile, male average life expectancy in Liverpool's central wards is up to seven years less than in both the city's more affluent areas and the national average. Both men and women in the inner city of Liverpool still spend many years longer in ill-health as older adults than in other parts of England.
Margaret, who has more than 35 years' experience in the community, voluntary and health sectors, called on the business community and the public to get involved in addressing some of these challenges locally.
"After ten years of austerity, many people are really struggling to get by and this is really impacting on their mental health." She added "I feel that we are in real danger of overlooking these problems because, on the surface, Liverpool's economy is thriving. Everywhere you look, new buildings are springing up and there is a real buzz about the city again, which is great. But that is only part of the story."
"We would urge anyone who would like to get involved in our fundraiser, whether it's family, friends or work colleagues, to contact us. It would be wonderful to attract as many teams as possible for a great morning of fun, excitement and adventure, which is all for such an important cause. Your participation in this unique and entertaining event could directly save someone's life."
Registration costs £100 for each team of up to six people, with all proceeds going towards launching the new service. Prizes will be awarded to the top three teams.